Puckett EMS personnel honored with Public Safety Appreciation Award by South Cobb Area Council for lifesaving efforts
December 4, 2018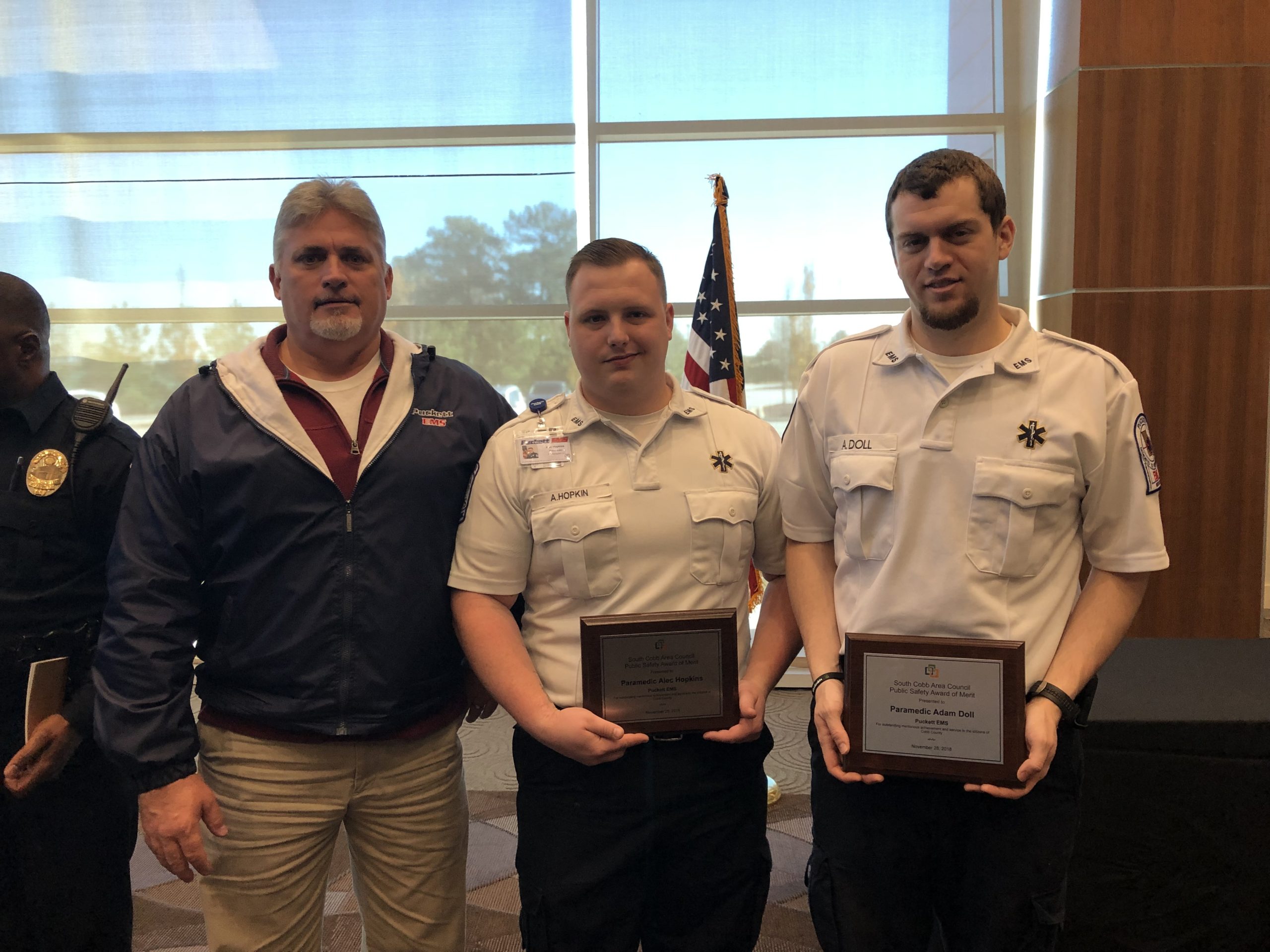 Puckett EMS Paramedics Alec Hopkins and Adam Doll recently were honored for stellar service in protecting public safety by the South Cobb Area Council of the Cobb County Chamber of Commerce at the organization's annual Public Safety Appreciation Luncheon on November 28. Hopkins and Doll were honored for two separate incidents where quick, critical decisions made in the field saved their patients' lives.
"The professionalism and critical decision-making demonstrated by Adam and Alec made the difference in the lives of their patients," said Puckett EMS Information Officer Jim McMichen. "I am grateful to the South Cobb Area Council for honoring their heroic efforts."
On February 3, Puckett EMS Paramedic Alec Hopkins responded to an early morning call regarding a 71-year-old man experiencing an altered level of consciousness. After performing a rapid assessment, Hopkins determined the man was having a stroke. In stroke diagnosis, time to intervention is critical to protecting brain function. Hopkins made the critical decision to transport directly to the nearest stroke center, Kennestone Hospital, bypassing nearer facilities not equipped to handle his diagnosis. Doctors at the hospital identified a blood clot in one of his middle cerebral arteries and removed the clot. The patient made a full recovery with no lasting neurological deficits.
On October 19, Paramedic Adam Doll responded to a report of a single car motor vehicle collision with no major injuries initially reported. Once he arrived on-scene, Doll realized the 56-year-old driver was suffering a STEMI, a massive heart attack requiring immediate intervention to open a clogged coronary artery. Doll provided the initial treatment to stabilize the man while en route to Cobb Hospital and instructed other first responders to expedite transport.
Doll called in a STEMI alert to the emergency department, which allowed the hospital to activate the emergent catheterization lab team in advance of the ambulance's arrival. Once at Cobb Hospital, Doll escorted the patient directly to the catheterization lab. The patient received a stent to clear a near 100 percent occlusion in one of his main coronary arteries. Due to the quick action of Doll, his fellow first responders and hospital staff, the man made a full recovery and is now able to enjoy the upcoming holiday season with his family.
"These are only two examples of the everyday calls that EMS professionals respond to every day, " said Puckett EMS Director of Operations Jake Lonas at the award ceremony. "Each shift brings new challenges, as well as opportunities to make a difference in someone else's live. Adam and Alec carry that responsibility with pride and professionalism."
About Puckett EMS
Puckett EMS provides 911 emergency and critical care ambulance services to the citizens of Southwest Cobb, Walker and Dade counties located in North Georgia. In addition to operations in Georgia, Puckett EMS provides 911 emergency services to Marion and Sequatchie counties in Tennessee and is the contracted ground transport for multiple Hospital Systems. Puckett EMS is accredited by The Commission on Accreditation of Ambulance Services (CAAS), which signifies that the service has met the gold standard by the ambulance industry. Puckett EMS is one of only five CAAS-accredited EMS services in the State of Georgia. In addition, Puckett EMS is one of only 160 services accredited nationwide by The Commission on Accreditation of Ambulance Services.
Puckett EMS is deeply involved in the communities it services. The agency has been recognized eight times as a top business in Cobb County and won the 2013 Small Business of the Year from the Cobb County Chamber of Commerce. In 2015, Puckett EMS was named the Georgia Emergency Medical Service of the Year by the Georgia Department of Health. In 2016, was awarded the Southeastern Emergency Medical Service Directors Association (SEEMSDA) Emergency Medical Service of the Year Award.
Photo caption: Pictured from left to right, Puckett EMS Director of Operations Jakes Lonas presents Puckett EMS Paramedics Alex Hopkins and Adam Doll with the Public Safety Stellar Service Award from the South Cobb Area Council of the Cobb County Chamber of Commerce on Nov. 28.